09.02.2021
Overview of agrometeorological situation of February 9, 2021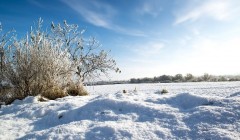 The intensification of frosts in the second five-day week of February, provided there was sufficient snow cover in the greater territory of Belarus, didn't pose a danger to winter crops.
The depth of soil freezing in most areas of the republic remains small, in some areas of the Minsk, Grodno and Vitebsk regions, the soil is thawed. Under the influence of low temperatures, soil freezing increased in the Southern region, as well as in the Northeastern and eastern regions.
In the coming days, agrometeorological conditions for overwintering crops will not change significantly. In the Southern part of the republic, the height of the snow cover will increase. Low temperatures, dangerous for winter crops, are not expected.