01.06.2020
Overview of agrometeorological situation of May 29, 2020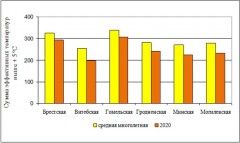 The sum of effective temperatures above + 5 ° C in regions of Belarus,accumulated from the beginning of the growing season to May 28, 2020
Rate of accumulation of effective heat this spring was restrained by cold weather which was observed most of April and May. The sum of effective temperatures above + 5 °C, accumulated from the beginning of the growing season is from 190 °C on average in the Vitebsk region to 300 °C on average in the Gomel region. That is 30-60° C less in comparison with long-term average values.  
Lack of effective temperatures restrained heat demanding crops' development. Increase of average soil temperature at a depth of 10 cm to +15 + 17 °C promotes seed germination and emergence of late heat-loving crops' shoots.    
In the coming days rains will significantly replenish the soil moisture reserves, thereby improving moisture availability and conditions for the formation of crop productivity, for grass regrowth after the first mowing. At the same time, rainy weather will complicate the implementation of protective measures for the care of crops and forage harvesting.