22.09.2020
Overview of agrometeorological situation of September 22, 2020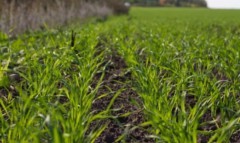 Reserves of productive moisture are sufficient on a large territory of the republic under winter crops and rapeseed, as well as in fields intended for winter sowing according to the results of instrumental determination of soil moisture, carried out on September 18. 
Increased moisture reserves remain in the east of Vitebsk region. Reserves of productive moisture in the arable layer of soil decreased to satisfactory, according to AS Vasilevichi and MS Mozyr – to low values, due to lack of precipitation in many areas of the southern half of the country. Lack of moisture worsens agrometeorological conditions for grain of winter crops germination, seedlings emergence and further plants development. 
In the near future rainless weather will allow maintaining a good pace of harvesting. Further decrease of soil moisture will continue due to expected shortage of precipitation and increased daytime temperatures. Areas with insufficient soil moisture will increase.