23.04.2019
Review of the agrometeorological situation of April 23, 2019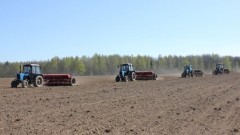 1st and 2nd decades of April were characterized exclusively by dry weather. Because of precipitation deficit and low relative humidity, loss of soil moisture continues especially from topsoil. According to the results of operational measurement of soil moisture made on April 18, deposit of productive moisture decreased. However, sufficient water availability of agricultural crops still remains on most of the areas. 
Insufficient moisture of 10 cm topsoil is observed in many areas of the Republic that worsens conditions for its treatment, slows emergence of seedlings of spring crops. Past intermittent rains moistened topsoil only in some areas of western part of the country. According to recent observation data, soil at depth of 10 cm warmed up in most of the Republic that will allow to sow heat-loving plants.
In the coming days, because of expected increase of temperature and lack of significant precipitations, water availability of agricultural crops will be worsened, areas with insufficient soil moisture could increase.