27.08.2018
Review of the agrometeorological situation of August 23, 2018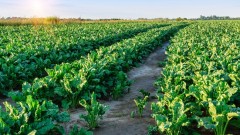 Main areas for sugar beet were sowed in time close to last year – till 25 April in Brest and Grodno region, till the end of month in Minsk region. Warm weather and sufficient soil moisture stimulated intensive growth of root crops. Because of deficit of precipitations and decrease of moisture content in soil, root increment became slower. According to recent data, small moisture content in soil is registered in some areas of sugar-beet sowing primarily in Brest region. Flagging of sugar beet leaves is observed on certain sites.
As at 20 August, according to data of observation sites of meteorological stations and factories of sugar industry, average mass of root crops remained level with last year. In this, sugariness of root crops is higher than last year. Predominance of sunny weather in August contributed to sugar accumulation.
Expected rains should fulfill moisture content in the main area of sugar-beet sowing, thereby improving the agrometeorological conditions for root crops growth.