03.09.2018
Review of the agrometeorological situation of August 31, 2018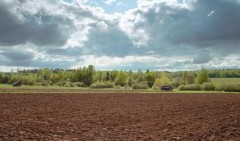 According to recent visual observation data, 10 cm topsoil is in a moderate moist state in many areas of Belarus. Conditions for soil treatment for winter cereal crops sowing, seed germination and further development of winter rape are favorable. According to data of some meteorological stations, topsoil is heavy moistened.
However, there is poor moisture of 10 cm topsoil in some areas, especially in eastern part of the country, and in the north-west of the Republic with small quantity of precipitations in last decade of August. According to data of meteorological stations Berezino and Lyntupy, soil at depth of 10 cm is still dry. Difficult conditions for soil preparation for winter cereal crops sowing still remain.
Because of deficit of precipitation, amount of areas with moisture deficit in topsoil may increase at the beginning of September. In this, agrometeorological situation will be beneficial for maize grain maturity, sugar accumulation in root crops, potato and vegetables harvest, animal food preparation and flax straw rise.