07.08.2018
Review of the agrometeorological situation of August 7, 2018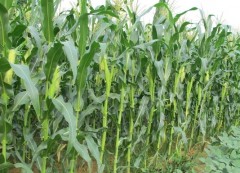 Agrometeorological conditions for maize growth and development are in general favourable in most of the country – accumulated sum of the effective temperatures from the beginning of vegetation period is from 725°С on average across Vitebsk region to 920°С on average across Brest region which is 190°С and 190°С respectively more than average multiyear values for this period.
Maize development precedes last year terms. According to recent observation data, there is a grain filling in many areas of the country, especially in its southern part, - milky ripeness has come. Formation of reproductive organs continues in other observed fields – flowering of panicle and ear is registered. Visual assessment of sowing state are good, they are satisfactory only in some sites of Gomel region, on the late sowings in Minsk region and in northwest of Vitebsk region. In the coming days because of expected rainfall shortage and elevated temperature regime in some areas of southern region, content of soil moisture will decrease. Agrometeorological conditions for maize grain formation could get worse in such sites.
Mass harvesting of  spiked cereals continues. Moisture of harvested grains in the range of conditioned and a little bit higher. Weather will allow supporting good harvesting speed till the end of first decade of August in Belarus.