05.07.2018
Review of the agrometeorological situation of July 05, 2018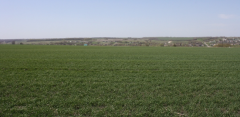 Past heavy rains increased moisture content of the soil throughout the Republic and neutralized soil drought. Agrometeorological conditions for ear plumpness of cereal crops, development of corn productivity and second herbs mowing, for growth and development of potato, root crops and vegetables undemanding to heat improved. 
According to recent data of visual observations topsoil of 10 cm is moderately moist in most of the regions in Belarus which contributes to organization of plant nutrition, row spacing mellowing of vegetable crops, potato hilling-up. There is intense moistening of topsoil mainly in the eastern area of the country with the heaviest rains. Field works implementation is selectively possible. Rains complicate sowing chemical management from weeds, invaders and diseases, conditions for fodder conservation have worsened.
In the near future growing of agricultural crops will be in presence of moderate temperature regime and sufficient, in some areas excessive moisture content in soil. Expected weather conditions will create opportunity for appearance and disease progress of agricultural crops which will require the implementation of protective measures.