26.07.2018
Review of the agrometeorological situation of July 26, 2018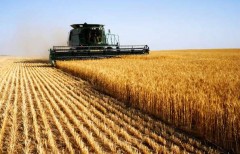 According to recent data, head filling is completed on main lands of cereal crops, ripening continues. Complete ripeness is observed on summer barley fields in Brest region, in the west of Minsk region and in the northern areas of Grodno region, its harvesting has started in the southern parts of the Republic. Summer wheat is ripened to waxy maturity in the west of Grodno region, in some southern areas of Brest and Vitebsk regions, in some eastern areas of Minsk region. Milky ripeness is observed on the other lands of summer wheat. Oat waxy maturity is observed in most of the country. Grain moisture is excessive, it has decreased only in some observed fields,
grain moisture is close to conditioned in Minsk region and in the south of Brest region.
Heavy torrential rains with winds caused cereal crops lodging especially in the north-eastern half of the country. Some meteorological stations of Vitebsk and Mogilev regions have registered medium lodging of spiked cereals on 10-20% of fields and according to meteorological stations of Polotsk and Kostyukovichi, strong lodging is observed on 50% of fields.
In the near future expected rains will retard grain drying and harvest speed.