01.06.2018
Review of the agrometeorological situation of June 1, 2018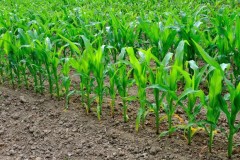 There is a shortage of precipitation on the prevailing part of the territory of the republic from the beginning of the growing season . In connection with the preservation of the deficit of precipitation in the last decade of May, the areas with insufficient soil moisture have increased. According to the results of instrumental determination of soil moisture mainly in the southern region and in the western part of the country, under cereal crops, primarily under winter crops, the reserves of productive moisture are low, according to separate meteorological stations, the arable layer is almost completely dried up. Meteorological station Zhlobin marked the drying of plants at the observation site of winter wheat.
According to the latest data from visual observations, the upper layer of soil in most of the country is slightly moistened, in some areas is dry. This makes it difficult to carry out agrotechnical measures for caring for plants, vegetable crops require additional irrigation.
In the near future due to the local nature of the expected rain, the soil moistening will not significantly improve, and the elevated temperature regime will further exacerbate the effect of drought on agricultural crops.