19.06.2018
Review of the agrometeorological situation of June 19, 2018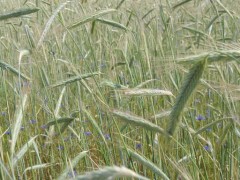 On most part of the territory of Belarus earing is observed in spring crops,  flowering is observed in wheat in the southern half of the country, grain filling began in barley in the extreme south-west part of the republic. Only in late sowings in some areas stalk growth continues.
Winter grain crops are forming grains, in many areas of the southern part and in the west of the republic grain is poured - milk ripeness has come. In the rate of development of grain crops, the advance of last year's terms is preserved.
After the last rains the agrometeorological conditions for the formation of the crop of grain crops improved mainly in the eastern and in some central regions of the republic. In large areas in the southern and western parts of the country, cereal grains continue to lack soil moisture. Here, according to a number of meteorological stations, low reserves of productive moisture persist for three decades or more - soil drought has reached the criterion of a dangerous agrometeorological phenomenon. The damage of grain crops (yellowing, drying of leaves and stems) was noted by a number of weather stations in Gomel, Grodno, Brest and Minsk regions.
In areas with low soil moisture unfavorable agrometeorological conditions are formed for the formation and loading of the ear. At the end of this week, the expected rains in many regions of the republic should replenish the moisture content in the soil and improve the moisture supply of crops.