21.06.2019
Review of the agrometeorological situation of June 21, 2019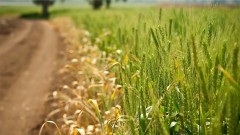 According to the results of instrumental measurement of soil moisture held on June 18, deficit of soil moisture was registered on most of the Republic of Belarus, mainly under cereal crops, rape, flax, perennial grass. Content of moisture in the layer of 1,5 m is assessed as low in large parts of Gomel region, in the south of Mogilev region, in the west of Brest region and in some areas of the remain regions. According to the data from meteorological stations Gomel, Oktyabr, Bobruysk, productive moisture has been virtually absent in the soil horizon of 1,5 m.
Sufficient moisture content under cereal crops remain at the time of moisture assessment in certain areas of Brest and Minsk regions and in certain parts of the country. Water availability of maize, potato and root crops worsened in many areas during the last decade; however, it is still sufficient in large parts of the country.
Past rains fulfilled content of soil moisture, mainly in the eastern part of Brest region, in the south-west of Minsk region and in the east of Grodno region. Because of uneven spread of rains expected in certain parts of Belarus (mainly in the south-east of the country) in the coming days, moisture deficit in soil may remain.
Because of high temperature and soil drought, difficult conditions for formation and filling of spike of cereal crops, rape, for formation of flax fiber harvest, herbs aftergrowth exists. State of other crops has also worsened. Sowings in Gomel region was drastically affected by drought, part of cereal crops died, stem drying is observed on flax, herbs drying is going. Cereal crops damages (mainly yellowing and leaf drying) are registered at the meteorological stations of Vitebsk, Mogilev and Grodno regions as well as in the south-east of the Republic. Yellowing and leaf drying of maize has started in certain areas of Gomel region and in the east of Minsk region.