28.06.2018
Review of the agrometeorological situation of June 28, 2018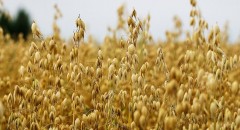 According to the latest observational data, spring cereals have been planted almost on the whole territory of the republic, they are blooming, and the grain is forming. In many areas of Brest, in some places in Grodno, Gomel and in the south of the Minsk region, barley came with milk ripeness - grain began to be filled. Only in the most recent sowing the growth of the stem continues in spring crops. The productive stem in most of the observed fields was formed close to the previous year, in the southern regions - less.
On the main massifs of winter crops, grain is poured, according to the data of separate meteorological stations in the Brest region, wheat has begun waxy ripeness. The development of winter crops is still ahead of last year's terms for one and a half to two weeks.
Past rains in many areas of Belarus have improved the conditions for the formation and loading of cereal crops. However, in areas where precipitation is low, primarily in the western part of the republic, there is lack of soil moisture, which aggravates agrometeorological conditions. Expected in early July, rains should improve the moisture supply of crops, including in areas with insufficient moisture.