25.05.2018
Review of the agrometeorological situation of May 25, 2018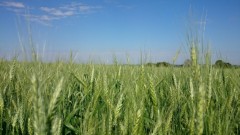 According to the latest observational data on a large territory of the republic, the upper soil layer is in a moderately moist state. In many areas of the Vitebsk region, where the most intense rains have passed, the upper layer of the soil is overmoistened, which will complicate the conditions for carrying out measures for caring crops and preparing forages for a short time.
Due to the short-term nature of the passing rains and the uneven distribution of rainfall in a number of areas in the southern region, in some central and western regions there is a shortage of soil moisture. According to the results of visual observations in Oshmyany and in Gantsevichi, the upper soil layer is dry.
On the main massifs of winter grain crops the stalk continues to grow, internodes and earlets are forming, in the southern part and in the west of the republic, efflorescence began, in some areas - flowering. The formation of the first pods was noted in winter rapeseed. The development of winter crops in the observed fields comes with a noticeable lead over last year's terms. There was a leaf-tube formation  among spring sown cereals, the stems have started to grow as well as the tillering is continuing during late sowing on the northern half of the republic.
In the near future in connection with the expected deficit of precipitation in areas where there is lack of moisture, agrometeorological conditions for the formation of productivity, especially cereals, do not improve, further loss of soil moisture will occur.