10.10.2018
Review of the agrometeorological situation of October, 10, 2018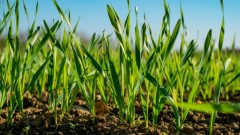 There are seedlings and third leaf on the main lands of winter cereal crops, grain germination – on the sowings of October. Formation of leaf rosette continues on winter rape. Warm weather expected in the coming days will contribute to growth and development of winter crops. 
According to recent observation data, 10 cm topsoil is well moistened on most of Belarus that is favourable for harvest of potato, white beet, maize for grain and silage, fall ploughing and agrotechnical activities for winter crops care. Overmoistening of topsoil is observed on the heavy (on mechanical composition) soils only in some areas of Vitebsk region. Field agricultural works are difficult to conduct on the overmoistened sites. Topsoil is poor moistened in some south-western parts of the country, in some central parts of Gomel region topsoil is dry that worsens conditions for soil treatment, grain germination and emergence of seedlings on the late sowings of winter cereal crops.
Expected dry weather will be favourable for harvest works till the end of the week.