06.09.2018
Review of the agrometeorological situation of September 06, 2018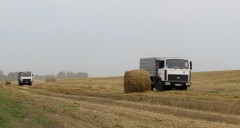 Agrometeorological conditions for soil treatment and autumn sowing in the territory of Belarus are ambiguous. Topsoil is overmoistened after recent rains in western part of Vitebsk region and in some areas of Grodno region. In the coming days, topsoil will get dry under the influence of warm weather, mainly without precipitation, thereby increasing here terms of winter cereal crops sowing.
Deficit of precipitation and soil moisture are observed mainly in south-western part of Belarus, topsoil is poor moistened in many areas, it is completely dry in certain sites of Gomel region, in southern part of Mogilev region and in the east of Minsk region. Conditions for winter cereal crops sowing and winter rape development are unfavourable and in the coming days will not improve because of precipitation shortage.
At the same time, weather will be favourable for harvest of potato, maize for silage and seed, fodder conservation and flax straw rise.