31.05.2021
ECOLOGY EXPO - 2021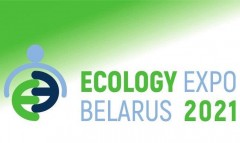 On June 3-5, 2021, Minsk will host the International Specialized Environmental Exhibition and Forum
"ECOLOGY EXPO - 2021"
- the largest congress and exhibition event in Belarus in the field of ecology, environmental protection, environmental equipment, technologies and services in 2021.
An extensive exhibition and business program, an International Environmental Forum, plenary discussions, round tables, and business meetings are planned as part of the event.
Location: Exhibition Centre, 14, Pobediteley ave, Minsk, Republic of Belarus.
The organizers of the exhibition are the Ministry of Natural Resources and Environmental Protection of the Republic of Belarus and the National Exhibition Center "BelExpo" of the Administrative Department of the President of the Republic of Belarus.
The goal of ECOLOGY EXPO 2021 Exhibition and Forum is to create a communication environment for discussing innovative ideas, exchanging information on production and technological achievements in the field of environmental protection and rational use of natural resources, accumulating proposals aimed at improving the economic effect through implementation and use of green technologies, promoting the coordination of efforts to achieve the Sustainable Development Goals of the Republic of Belarus. A wide range of high-tech innovative turnkey solutions will be displayed at the Forum.
The most important Exhibition objectives are: raising awareness on the importance of the consumption of environmentally friendly goods and services; promoting the sustainable lifestyle; stimulating interest and creating the demand for green goods and services; increasing sales and expanding markets for greener products; increasing presence of goods and services produced in Belarus at foreign markets.
The topics covered by the exhibition cover many areas of activity:
environmental technologies in industry;
environmentally friendly construction technologies;
waste and secondary raw materials;
environmentally friendly transport;
eco-environment;
environmentally friendly food and packaging;
ecotourism;
preservation and restoration of the environment;
education in the field of ecology.
More information about the event can be found in the
PRESENTATION.