29.05.2021
XXVII International ICT Forum TIBO-2021 is held in Minsk from 1 to 4 June 2021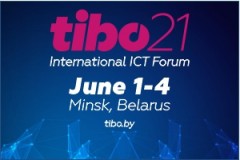 The XXVII International ICT Forum TIBO-2021 is held in Minsk from 1 to 4 June 2021.
Thematic sections of the exhibition:
• Telecommunication and network infrastructure:
• Technologies
• Equipment
• Solutions
• Services
• IEM systems and ERP platforms
• Industry solutions
• Television, multimedia and gaming technologies
• Tooling software
• Digital publishing and printing
• Internet technologies and services
• Robotics
• Technologies of "Smart City" and "Smart Home"
• Security systems and technologies (e-Securuty)
• Computer-aided design and control systems
• Modern technological trends
The informational brochure of the forum can be found
HERE
.
More information can be found on the forum
website.