04.09.2020
Overview of hydrological situation of September 04, 2020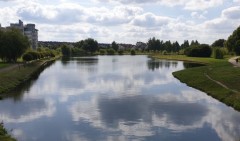 Overview of hydrological situation of September 4, 2020
The country's rivers witnessed fluctuations in water levels with a daily intensity of 1-26 cm on September 4, 2020.
The unfavorable conditions for the operation of river transport are observed on the Neman near Grodno, on the Dnieper near Mogilev, Rechitsa and Loev, on the Berezina near Bobruisk and Svetlogorsk, on the Sozh near Krichev, Slavgorod and Gomel.
The water temperature in reservoirs was 17-20°С, in the Western Dvina, the Viliya and the Neman river basins was 13-18°С, on the Sozh, on the Dnieper, on the Berezina, on the Pripyat and on the Western Bug was 14-22°С.
In the coming days, most rivers will experience a drop in water levels; the water temperature will not change significantly.