10.09.2020
Overview of hydrological situation of September 10, 2020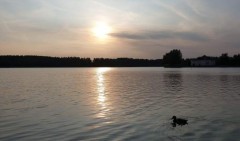 As at September 10 increase of water levels with daily intensity 
of  1-12 cm per day is observed on the Zapadnaya Dvina on the section Syrazh-Vitebsk and Verjbedvinsk, on the Neman on the section Mosty-Grodno, on the Viliya near Steshitsy , on the Dnieper on the section Orsha-Mogilev and Rechitsa, on the Sozh near Krichev and Gomel, on the Pripyat near Gomel, on the Pripyat near Mozyr. On the rest extend of above mentioned rivers, also on the Berezina decrease of water levels and their smooth course is observed. 
Unfavorable conditions for the work of river transport are preserved on the shipping sections of the Neman, the Dnieper, the Berezina and Sozh.  
Water temperature in reservoirs ranges from 16 to 19°С, and from 13-to 20°С in rivers.  
In the coming days decrease of water levels will be observed on major rivers.