22.07.2020
Overview of agrometeorological situation of July 22, 2020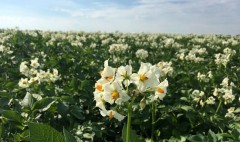 Soil water reserves decreased due to deficit of precipitation in the second decade of July. Reserves of productive moisture in the half-meter layer of soil remained good in most of the observation points under potatoes, root crops, corn and grasses according to results of instrumental determination of soil moisture.  Low reserves of productive moisture were noted in places in the southeast of the country, in some areas of Grodno and Brest regions, in the far southwest of Vitebsk region, mainly under potatoes due to uneven distribution of precipitation. Arable and half-meter layers are almost completely dried up according to data of Gomel and Lyntupy meteorological stations. 
Expected short-term rains should replenish moisture reserves in the soil in the near future. 
Sufficient moisture supply against the background of low temperatures will contribute to potato tubers, root crops formation and growth, regrowth of grasses after cutting.