12.06.2020
Overview of agrometeorological situation of June 12, 2020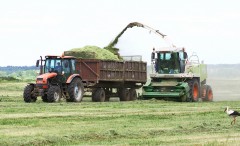 According to passed rains on the territory of Belarus there was an increase of soil moisture. According to instrumental moisture determination conducted on June 8 on the majority of observed fields under crops in the half-meter horizon of soil contains from 50 mm to 120 mm of productive moisture, which characterizes good moisture supply, that contributes to the formation of crop productivity. Moisture reserves were increased after heavy rains in several regions of Mogilev region.  
Satisfactory reserves of productive moisture were preserved under grain crops and rapeseed at the time of determining moisture according to some weather stations in Vitebsk, Grodno and Brest regions. Past rains in recent days have increased soil moisture content.  
In the second decade of June in the vast territory of Belarus sufficient moisture reserves in the soil will remain, which  will provide quite favorable conditions for crops formation in combination with expected warm weather.