05.05.2020
Overview of agrometeorological situation of May 05, 2020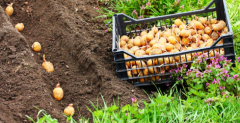 The past rains replenished the moisture content primarily in the upper 10-cm soil layer. The soil is in moderate wet state 5 in many regions of Belarus at a depth of 10 cm according to visual observations on the morning of May. Weak soil moisture is still noted in areas of Vitebsk, Brest regions, in the central part of Minsk and Gomel regions.  
Reserves of productive moisture in the arable layer under crops, perennial grasses, winter rape in most areas of the southern half of the country were insufficiently according to the results of instrumental determination of soil moisture carried out in the end of April. Moisture reserves were low under winter crops in Gomel, in areas of the Brest, Grodno and in the south of Mogilev region.  Insufficient moisture supply complicated agrometeorological conditions for cereal crops productivity formation, grass growth.   
In the coming days expected continues and heavy rains should increase soil moisture and improve agrometeorological situation.