29.06.2018
Review of the agrometeorological situation of June 29, 2018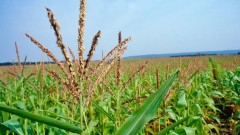 On the main corn massifs, the growth of green mass continues, mainly 11-13 leaves were formed, in places - 15 leaves. Only in the late May crops 7-9 leaves were noted. At certain observation sites in the Brest region began mashing the panicle. In conditions of good heat supply, the development of corn and the growth of green mass this year is ahead of last year's deadlines.
After the last rains on a large territory of the country, the moisture content of maize has improved. However, in some regions, mainly in the western part of the country, where there is a lack of soil moisture, agrometeorological conditions for the growth of green mass remain difficult. Separate meteorological stations of the Grodno region on the observed fields indicate the wilting of plants, yellowing and drying of the leaves of maize.
The rains expected in the coming days will supplement the moisture content in the soil throughout the country, which will be favorable for the formation of maize productivity. A short cooling in early July should not significantly affect the pace of development of this culture.