15.12.2021
Overview of hydrological situation of December 15, 2021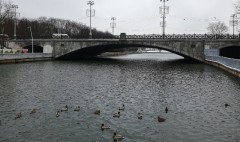 In the past period (December 11-14), the unstable nature of the weather led to the destruction of ice formations in some parts of the rivers.
As of December 15, freeze-up with openings is observed on the Western Dvina near the village of Surazh, the village of Ulla and most of its tributaries. Ice formations in the form of banks and sludge drifts are observed on the Western Dvina near Vitebsk, Polotsk and Verkhnedvinsk, Neman in the Mosty-Grodno section, Berezina near Borisov and Bobruisk, as well as on Sozha near Slavgorod, some of its tributaries and individual tributaries of the Viliya and the Western Bug. Freeze-up is observed on the reservoirs Vileika, Chigirinskoye, Zaslavskoye, lakes Chervone and Drivyaty, and on Lake Naroch - shorelines.
On most of the country's rivers, water levels rise with a daily intensity of 1-22 cm.
In the coming days, fluctuations in water levels with an upward trend will be observed on the rivers; no significant changes will occur in ice conditions.