30.12.2021
Overview of hydrological situation of December 30, 2021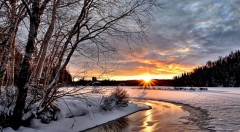 As of December 30, freeze-up and freeze-up with openings are observed almost everywhere on the rivers of the country. On the reservoirs Vileyskoye, Chigirinskoye, Zaslavskoye, Soligorskoye, Krasnaya Sloboda, lakes Lukomskoye, Drivyaty, Naroch, Vygonoshchanskoye and Chervonoye, continuous ice cover is observed.
On rivers, fluctuations in water levels are noted, in places sharp (up to 50 cm per day), caused by ice jam.
The water levels exceed the marks of the water outlet on the floodplain on the Neman near the village of Belitsa, a tributary of the Berezina to the Svisloch River near the village of Terebuty, the tributaries of the Pripyat rivers, the Sluch near the village of Lenin and Ptich near the village of 1st Slobodka.
In the coming days, an increase in air temperature and precipitation will cause an increase in water levels on rivers. The ice cover will melt on water bodies, water will appear on the ice, and the ice structure will change.