06.12.2021
Overview of hydrological situation of December 6, 2021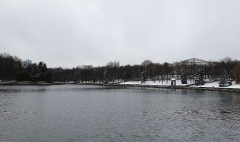 In the past period (December 1-5), an increase in water levels was noted on the rivers, as a result of which water levels on the Dnieper near Mogilev and Zhlobin, Berezina near Bobruisk, Sozhe near Krichev and Slavgorod, water levels exceeded the marks, limiting shipping. Cold weather contributed to the appearance of ice formations in some parts of the rivers.
As of December 6, ice formations are observed on the Western Dvina near the town of Surazh and the village of Ulla, the Dnieper near the town of Zhlobin, most of their tributaries, the Berezina near the town of Borisov, and individual tributaries of the Sozh and Pripyat. On the lakes Drivyaty, Naroch and Chervonee, there are banks, and on the reservoirs Soligorskoye and Krasnaya Sloboda, there is a thin ice cover.
On most rivers, there is an increase in water levels with a daily intensity of 1-11 cm. On the Neman near the city of Grodno, unfavorable conditions remain for the operation of river transport.
In the coming days, the rivers will experience fluctuations in water levels, in places sharp, due to ice-forming processes.