11.01.2022
Overview of hydrological situation of January 10, 2022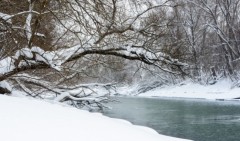 As of January 10, freeze-up and freeze-up with openings are observed on the Berezina, the Sozh, a greater extent of the Western Dvina, the Neman and the Pripyat, as well as on most of their tributaries 4-22 cm thick. There is a continuous ice cover 6-30 cm thick on the lakes Lukomskoe, Drivyaty, Naroch, Vygonoshchanskoe and Chervonoye.
Fluctuations in water levels with a daily intensity of 1-32 cm are noted on the rivers of the country.
The water levels exceed the marks of the water outlet on the floodplain on the Neman near the village of Belitsa, the Viliya near the village of Steshitsy, the Dnieper near the town of Loev, the Svisloch river, a tributary of the Berezina, near the village of Terebuty, the Pripyat near the village of Chernichi, its tributaries the Sluch river near the village of Lenin and the Ptich near the village of 1st Slobodka.
In the coming days weather conditions will contribute to the intensification of ice formation processes and an increase in ice thickness on the country's water bodies. Rivers will experience fluctuations in water levels.