05.05.2021
Overview of hydrological situation of May 5, 2021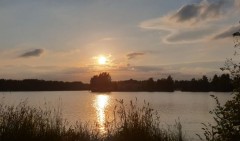 Due to precipitation, the water level is observed in the cave with an intensity of up to 21 cm per day, Neman, Viliya, Berezina near Berezino, Sozhe near Krichev, Pripyat in Pinsk, some of their tributaries and individual tributaries of the Western Bug with intensity up to 10 cm per day. For the rest of the above-mentioned rivers, as well as on the Dnieper, the water level is noted with a daily intensity of 1-21 cm.
On the Neman near Grodno, the water level is below the mark; when installing water supply, it is established in the operation of a river river.
The water is located on the floodplain on the tributary of the Western Bug of the Narev River near the village of Nemerzha, the Dnieper near the town of Zhlobin, the town of Rechitsa and the town of Loev, Sozhe near the town of Slavgorod, its tributary to the Iput River near the town of Dobrush, Pripyat near the village of Chernichi and the town of Mozyr, its tributaries, the Styr rivers near the village of Lopatino, Sluch near the village of Lenin, Stvig near the village of Korotichi, Ubort near the village of Krasnoberezhye and Ptich near the village of 1st Slobodka.
The water temperature in rivers and reservoirs is within from 7.1°C to 13°C.
In the next five days, the rivers will be marked by the levels of water fluctuations, in Slavgorod the water will be in the channel.